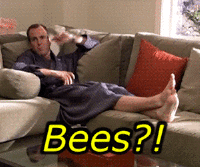 Abeego was invented by Toni Desrosiers back in 2008. The aim of the beeswax is to allow food to breathe, and to inspire others to take part in the beeswax food wrap movement. Abeego is all natural! Beeswax adds durability to the wrap, plus it only requires minimal energy to produce. The production involves manual labour, except the waxing machine.
Review: 
I was skeptical of the beeswax wrap at the beginning. I bring breakfast (fruits and eggs) to work everyday, and I didn't want to use bulky boxes or Ziploc bags anymore. So the wrap came in handy. It takes up so little space when folded. You don't need to scrub it clean after each use, simple rinse it with cold water. Different sizes are available; be creative in the ways to use them! You can even wrap your utensils with them.
Tips:
For irregular shaped food like apples, wrap it securely before placing into your bag. It's possible that your food might taste a little like beeswax after being wrapped... To prevent that you can wrap one piece of paper around your fruit, or simply wash it before eating.

Where to buy:
Online and in-store: https://livezero.hk/collections/all/products/abeego-small-wrap
Online to HK: www.now-nowaste.com
International Delivery: www.abeego.com
Please reload