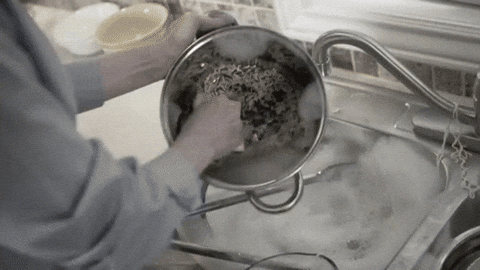 The Skoy scrub can replace your conventional scouring pad which is usually made of plastic or metal mesh. Unlike most scouring pads in the market, skoy scrub is made of cotton fibre and coated with a food grade non-toxic hardener. You might consider giving this product a try if you're working towards reducing plastic use in the kitchen. Its stiff, textured surface gives the same abrasiveness as the green scouring pads and metal scouring mesh.
Skoy scrub claims to be safe and effective on most surfaces including non-stick pans, ceramic stovetops and glass. I haven't used it long enough to determine whether that's the case but since it's quite rough, I tend to only use it gently to remove food stains from stainless steel pots and non-stick pans to avoid scratching. I've read mixed reviews on whether this product scratches so I'm just going to be on the safe side.
The thin, scrubby cloth might not be easy to hold onto but it does dry quickly. It's difficult to get food particles out of traditional scouring pads, but it's not the case with Skoy. Generally speaking, it feels more hygienic as it remains odourless and (relatively) free of bacteria after a month of usage. It definitely feels more durable too. I don't own a dishwasher but apparently you can leave the scrub on the top rack to be cleaned.
Where to buy:
Amazon.com
Please reload