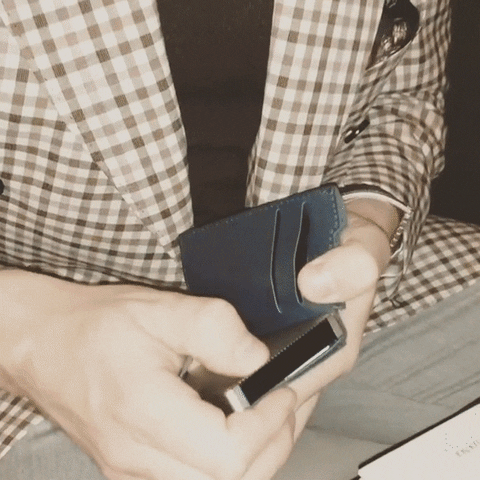 The plastic shopper bags that we see everywhere don't get recycled through Hong Kong's curb side recycling bins. Jolene from HK hopes to keep those plastic bags from entering the landfills and oceans by using them to create something functional and beautiful. The aesthetics is sometimes compromised in upcycled products, but this is certainly not the case for Jolene! Jolene devotes a lot of time to plan out and create unique patterns for her cardholders, trays and vase covers. Each item is handmade - from flattening out and cleaning the plastics bags, heat-pressing them, designing the pattern, to cutting up and sealing the plastic sheets.
The cardholder I purchased holds a maximum of 3 cards. Not a lot of capacity due to the stiffened plastic material but it does remain pretty compact, rendering it perfect for your tight jean pockets or small handbag.
Jolene is eco conscious in a sense that she believes everything can be resources, including what is commonly regarded as 'waste', and she wishes to inspire other makers and consumers to think so too. Ultimately, she's working towards eliminating the concept of 'waste'!
Where to buy:
Womb HK (www.wombhk.com)
Please reload